Le Val Brise de France
Brise de France Sauvignon


Appellation

Vin de France

Grape varietal

100% Sauvignon

Tasting notes

The robe is pale yellow, brilliant, with green reflections. The nose develops lemony aromas and a touch of exotic fruits. In the mouth, freshness and harmony accompany the citrus aromas. The finish is elegant, and we find the exotic note revealed in the nose.

Pairing recommendation

Ideal with sushi, tuna tataki, seafood kebabs or as an aperitif.

Service temperature

8-10°C

Winemaking process

direct pressing - cold static settling - alcoholic fermentation at low temperature and racking.
Le Val Brise de France
Muscat


Appellation

Vin de France

Grape varietal

100% Muscat

Tasting notes

A bright gold yellow colour. The nose brings notes of fresh fruits and white flowers. The mouth is generous and smooth, the attack will reveal notes of litchi, acacia, a hint of honey, balanced with a great freshness.

Pairing recommendation

Perfect with appetizers, a crumble of apples,, crême brûlée or a chocolate cake

Service temperature

8-10°C

Winemaking process

Direct pressing – cold and static settling – Cold temperature controlled fermentation, then racking

Soil

Multiple geological nuances - clay-limestone - gravelly terraces - schist
Le Val Brise de France
Brise de France Cabernet Sauvignon


Appellation

Vin de France

Grape varietal

100% Cabernet Sauvignon

Tasting notes

With a dense color with ruby nuances, its nose reveals intense notes of small black fruits such as blackcurrant or blackberry. In the mouth, the attack is velvety with blackberry aromas and a good tannic structure.

Pairing recommendation

Perfect to accompany a cassoulet, a rib of beef or a plate of mature cheeses.

Winemaking process

Harvest at optimal maturity. De-stemming and crushing before vatting. Traditional maceration. Alcoholic and malolactic fermentation, then racking.

Service temperature

16-18°C
Le Val Brise de France
Brise de France Merlot


Appellation

Vin de France

Grape varietal

100% Merlot

Tasting notes

Intense purple colour. The nose is elegant with notes of red fruits. The attack on the palate is supple, aromatic, and echoes with the scents revealed on the nose. A great balance with supple tannins and a final of crushed strawberries on the mouth

Pairing recommendation

Perfect with roasted poultry, roasted vegetables, beef bourguignon, duck or creamy cheese such as camembert

Winemaking process

Harvested at full maturity. Destemming and crushing before going into tanks. Traditional maceration that undergoes a malolactic fermentation, followed by racking.

Service temperature

16-18°C

Soil

Multiple geological nuances - clay-limestone - gravelly terraces - schist
Le Val Brise de France
Grenache-Syrah


Appellation

Vin de France

Grape varietal

70% Grenache, 30% Syrah

Tasting notes

Bright pink colour with hues reminding grapefruit. The nose reveals aromas of strawberries and raspberries. The mouth is elegant, the Syrah brings complexity, and grenache structure and roundness. The final is persistent and aromatic, with flavours of red fruits.

Pairing recommendation

Perfect with your appetizers, bruschetta, tomatoes based dishes. This wine will also be perfect with baked vegetable dishes or Japanese food, such as yakitori

Service temperature

8-10°C

Winemaking process

Direct pressing – cold and static settling – Cold temperature controlled fermentation, then racking

Soil

Multiple geological nuances - clay-limestone - gravelly terraces - schist
Le Val Brise de France
Chardonnay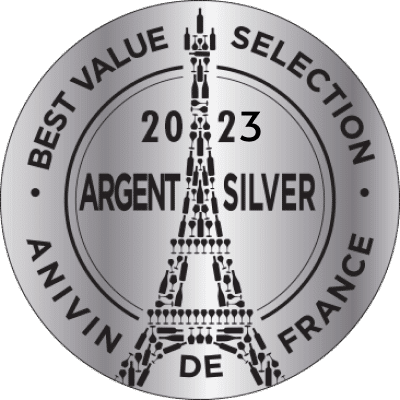 Appellation

Vin de France

Grape varietal

100% Chardonnay

Tasting notes

A beautiful yellow colour with golden hues. This Chardonnay-Viognier reveals a nose of peach and acacia flower. The mouth is full and generous, and bring flavours of tropical fruits. This wine is elegant, fresh and well balanced.

Pairing recommendation

Perfect with appetizers, fresh cheese such spread cheese or, cottage cheese. It will also pair well with grilled fish, tomato salad, white meat such as a veal steak with lemon.

Service temperature

8-10°C

Winemaking process

Direct pressing – cold and static settling – Cold temperature controlled fermentation, then racking

Soil

Multiple geological nuances - clay-limestone - gravelly terraces - schist